Mileage correction Tool Review TOP 10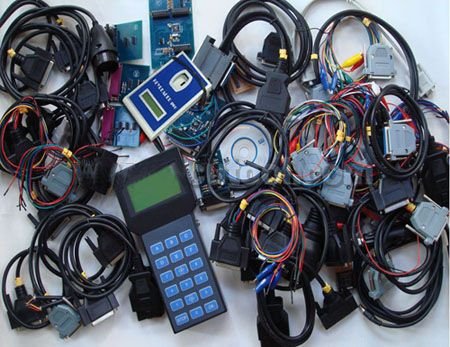 NO.1
Tacho Pro / Tacho universal
Score : 95
More Info : Tacho Pro / Tacho universal
Feature :
Category: Car odometer correction tool, mileage correction tool
UNLOCK VERSION.
Language: Deutsch, English, Polski, Spanish, Italiano, France
Tacho Universal is the most sold programming-device for digital speedometers worldwide. The system is a high-quality tool, which offers a maximum of flexibility and working comfort despite simplest operation. You can serve almost any vehicle with the Tacho Universal.
NO.2
Diga Consult
Score : 90
More Info : Diga Consult
Feature :
You can serve almost any vehicle with Diga Consult.
NO.3
Digimaster
Score : 90
More Info : Digimaster III / Digimaster II
Function
1. Support OBD-II interface odometer adjustment of Volkswagen, Audi, Benz, BMW and BMW 7 Series models: E65 CAS and the 2009 Audi A6L and Q7.
2. Read BMW CAS1/ 2/ 3 data by CAN interface.
3. Online reading BMW CAS1/ 2/ 3/ 3+/ 4, Mercedes-Benz EIS EEPROM and FLASH data by BDM.
4. Support the Mercedes-Benz S, C, E, odometer and EIS adjustment; Porsche, Ferrari, Bentley and other European luxury cars odometer adjustment; Chinese domestic car MCU and engineering machinery odometer adjustment;
5. Support the MOTOROLA/FREESCALE series CPU (including some CPU flash) data read and write.
6. Support key programming for Mercedes Benz and BMW series cars.
NO.4
Super Tacho
Score : 85
More Info : Super Tacho
Feature :
1. The SUPER TACHO have everything inside what you need for bugfix and repair your dash and control device.
2. The SUPER TACHO read the current mileage, decode and show the mileage in the LCD display
3. All datasheets can be edited, saved and loaded with the SUPER TACHO
4. Stored datasheets from the SUPER TACHO can be transferred to a PC for archiving
5. Broken speedometers can be repaired comfortably with the SUPER TACHO
6. The SUPER TACHO is approachable for all type of speedometers.
NO.5
USA Prog
Score : 80
More Info : USA Prog
Feature :
Hand-held mileage correction tool, powered by two CORTEX ARM cores, speed up to 200MHZ. With SD card interface to load and save files, USB port for update by Internet. 320*240 TFT LCD with 256K colors to show pictures and help files in detail. Integrate CAN-BUS / J1850 / CCD-BUS / ISO9141 / SPI protocols in one multifunctional interface.
NO.6
NEC Programmer
Score : 75
More Info : NEC Programmer
Feature :
This device is a Dash Programmer and ECU Flasher designed for Vehicles using the NEC MCU such as Citroen, Peugeot, Hyundai, Honda, Suzuki, Renault, Opel, Alfa, Chevrolet (please refer to the Applicable Models below) that allows you to modify/reprogram your car's computer or correct the odometer reading!
NO.7
VAG Dash Prog
Score : 75
More Info : VAG Dash Prog
Feature :
Hand-held one, very easy to use; with usb 2.0 port to update software or download/upload data; Can make correction of odometer and read immo code.
NO.8
DMW3
Score : 70
More Info : DMW3
Function :
1.Diagnose(KWP1281,KWP2000,KWP6000)
2.Odometer Correction(K-line,CAN BUS)
3.Anti-theft code reader (IMMO1, IMMO2, IMMO3, WFS) 
4.Key matching
NO.9
Mileage Master PC
Score : 65
More Info : Mileage Master PC
Feature :
Function
Applicable to most vehicles up to 2006. Automatically read out mileage and adjust directly at will, no need to calculate. Can be used as a programmer. Let you read, save, display, edit the memory.
NO.10
Digiprog
Score : 80
More Info : Digiprog
Feature :
DigiProg is the worldwide leader in the production and marketing of digital speedo programming and correction software. Our state of the art techniques are continuously kept up to date and our quality standards are second to none.